I really like the rainbows and compositions combined from flowers and beautiful women, so today we will be making a composition titled "Welcome to Thailand". We will make a combination based on 3 simple photos, work with Curves, Brushes, Layer Styles and Blending options. This tutorial is suitable for beginners as well as advanced users and if you have any questions, please feel free to leave a comment and ask, I will be happy to help you out, if I can.
We will be making this (full view)

Ingredients:



Step 1:
As always the first step for creating a composition is cropping out the main characters, so using the magnetic marquee Tool or Pen Tool (whichever you find more useful), crop the lady out…

if you are using CS3 + version of Photoshop, it will be much easier for you to follow our today's tutorial as a lot of features we are working with are simply unavailable in previous versions of Photoshop. One of them is the "Refine Edge" facility. Once the selection is loaded, go to refine Edges and add apply the following settings. Please note that setting vary depending on the selection you have made, let alone photo you are working with. if you used Magnetic Marquee Tool for cropping, use the same settings as we have here:

Step 2:
Next step is go to Levels by pressing Ctrl + L and apply these settings. Our purpose is to make the image a little more professional looking by adding light since the original image is extremely dark and pixelated. We will refine our photo by working with Curves and Levels, but lets start with levels, to get an overall lighter hue:

Step 3:
Next, go to Curves and using the RGB channel, lighten the image up, just the way you see on the illustration below:

Step 4:
Right now it looks far more professional, less dark and more vivid, almost like a real studio shot. it's time to take the second image from our stock for this tutorial, the sky shot, and place it on your canvas, just below the cropped lady image.

Step 5:
Also, crop the orchids just the same way as you did with the lady and place the flower on your canvas.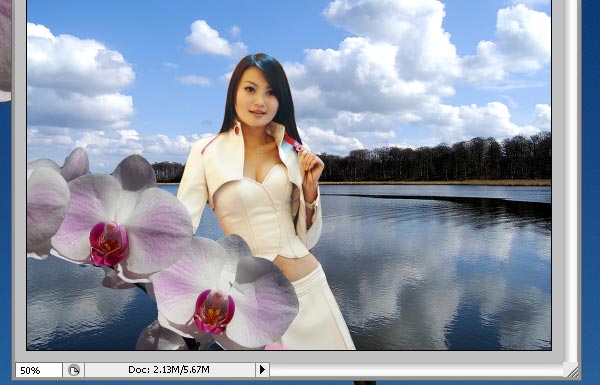 Duplicate the cropped orchid's layer and place a few of them around the lady. We placed one on the front and the other behind her, so create the illusion as if she is surrounded by these gigantic flowers.