Dark Fantasy Art tutorial called  "Sleeping Sun" by Lorelei (me!) was originally posted on www.loreleiweb.com The tutorial remains a copyright property of Lorelei © 2009, however,  now it has moved to PSwish.com due to technical / server reasons. We invite all our LoreleiWeb community to subscribe to our feed and make sure you don't miss any tutorial written by your favorite authors.
Despite been classed as fantasy art, this is mere photo manipulation – make a fairy and your own mystic scenery; creating a landscape from scrap is now possible! I was inspired by the huge success of my previous fantasy art tut, which I posted in this forum last week… I got quite a few emails thanking me for it and many PS blogs featured it, so I decided to give in to repeated requests from millions of loving fans and do one more fantasy/scenery tut…
This is basically a mix of whats we call "fantasy art" and "dark/ gothic art"

I want to mention in advance that this tutorial is mostly for more experienced users, here we will need to use a lot of "handwork" and common sense; you will be working with your own images and would need to adjust to the "needs" of your landscape.
So, let's get started… make a new canvas – 600* 400.
Fill your background layer with any dark color, we chose to do it with blue, but you can use black as well.

Take a picture of a girl… we used this one, from Liam Stock, free photo resource.. ( http://www.deviantart.com/deviation/39058232/ <– Full resolution image)
This would depend on the image you use, but try to crop the figure accurately and remove the background.

Select the cropped girl from your canvas, and paste it unto the blue fantasy canvas we will create.
Place her in the middle, not to close to the edge, as she will be our leitmotif.

Next step, you will need different photos in order to combine a landscape.
First off, a photo of a shore. We took a pic offered free by ~gladly.

Press ctrl + a to select the entire waterscape, Ctrl + c to copy it, and then, when you go to the fantasy canvas – press Ctrl + V to paste it.

Be sure to place the waterscape layer UNDER the layer with the girl. This is important, we placed the girl first in order to be able to see what proportion are we creating with the landscape, however, remember, that she shall always be the top later.

Using the Eraser tool, with a soft edge, 40 or 50 px size, draw a line (horizon), which will be around the level of the main figure's eyes. This is ideally, but if you use a taller person, or not a sitting figure, of course, you can draw the horizon wherever you wish.
In order to make sure that your line is straight, press the Shift button while pressing the mouth, this way, even if your hand will hove, the line will remain straight.

Now we need the sky. Don't look for any spy picture, because we mostly need a horizon line (with mountains, or just a stroke of land) rather than mere clouds.
The hue of the picture is not important, all you need is a cloudy interface with a bit of land to symbolize the horizon.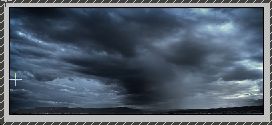 Paste your clouds photo unto the fantasy canvas, UNDER the waterscape layer.
The horizon line of the water has to be a little darker, so u can go back to the background later (blue canvas) and brush it with black or a darker blue hue.

Create a new layer.
Select a Round Brush with a sharp edge (do not use a soft edge here!) and Make a stamp near the figure, as shown in the picture below.



Set the opacity of the layer to "soft", to make it semi-transparent. Using the eraser tool with a sharp edge, remove all the remains, so that it will look as if this sun (or moon, if u wish) will create the illusion of setting behind the hills/landline of the horizon.
See the illustration to understand it better, and once you have finished erasing, don't forget to set the blending options back to normal

Go to Layer >>Layer Styles >> Blending options, and apply these settings for the outer glow effect. Don't skip this step, this is necessary to make an effect of shine and glow.

Select the waterscape layer.
Go to Filter >> Renders >> Lightening Effect.
Make a light spot, exactly on the place where the sun is… this will lit the water in front of the setting sun.

This is what we got so far, beautiful water with a local lighting.

Select the layer with the cropped girl (main figure) and apply the same spot lightening effect.
Its important to use same location for the spot, as we only have one sun here!

Set the blending options of the layer with the girl to "Luminosity", in order to give her the same hue as the layers underneath her.

After the recent few steps, you canvas should look like this… If anything looks different – don't worry, in the end you might get even a better result than the example in this tut.

Now, we are going to need wings to add to our girl and turn her into a fallen fairy.
I'd recommend using Photoshop brushes in the shape of wings, and not to crop wings from other photos, as we need high-quality transparent wings.
For this very tutorial, I used wings brushes downloaded free from Deviant art – http://www.deviantart.com/deviation/11925788/
Once you have installed the brushes, make a new layer (don't forget) which will be placed BELOW the girl, and ABOVE the waterscape layer and the sky.

Use a size that will suit the size of your figure and canvas. We used wing brushes 185px, but this is individual.