Featured Image Source: Flickr
In this digital age, making your mark online is good for your business. But if you are in the e-commerce market, having an established online presence is not enough. What you should have in your arsenal is a carefully planned e-commerce website.
Think of your e-commerce site as the face of your online store. If everything is in disarray, people won't be that excited to come and visit you.
While some may be interested in spending hours combing through your shelves for hidden treasures, a lot of people don't have the luxury of time to do that.
Most will just opt for organized spaces that integrate optimal user experience. After all, you're not the only one in this business.
So, what should you do to start the money from rolling in?
The answer is simple: Set up an e-commerce website that have your customers in mind.
In this article, we will discuss the non-negotiables in creating an e-commerce website that actually sells.
Just scroll down the page whenever you're ready.
1. The Search Bar
The search bar is mandatory in every e-commerce website. If you don't have one, it could be why you haven't been re-stocking your shelves for quite some time.
Since you are in the online service industry, your goal is to meet the needs of your visitors with ease.
Of course, seasonal product collections and popular products window come in handy, but you have to give what your customers want fast.
This is where your website's search bar comes in.
Image Source: Walmart
By having an accessible search bar, customers get to find a specific product that matches their specifications in just a matter of clicks.
Luckily for you, a lot of e-commerce platforms and content management systems (CMS) have a built-in native search bar option that you can put in your site. You just have to identify the pages where your search bar should appear.
2. The "Specials" Section
More often than not, customers go online shopping without a particular product or brand in mind.
This is why they tend to check first your best sellers and the specials for this season in your home page.
One way of advertising what's hot right now on your shelves is by bundling your products based on specific events in the calendar.
Image Source: eBay
You can work on the usual Mother's Day and Father's Day specials, the crazy Black Friday sale, and other holiday deals.
With this, you get to help your customers pick the right product and avoid spending their time and money on the non-essentials. This is one of the hallmarks of good customer experience.
3. The Category Pages
It is a common practice for small and recently launched e-commerce websites to prioritize narrow niches, through the category pages, when targeting keywords and creating good content.
Category pages are vital in an e-commerce website. These support your search engine optimization (SEO) efforts by creating a "silo" structure.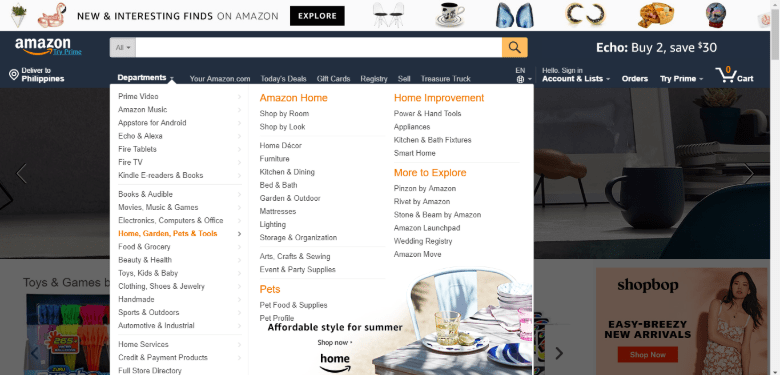 Image Source: Amazon
E-commerce sites are expected to label accordingly and optimize their category pages to strengthen the user experience and improve the site's usability.
If you have hundreds or thousands of products on your shelf right now, the category pages will help your customers sort through all the items you offer.
The bottom line of having category pages is that it boosts efficiency on both ends: You get to develop SEO-friendly content while your customers can navigate around your store.
4. Product Rows
In online shopping, perception matters.
One way on how you can upgrade your product display in your online store is by aligning your products horizontally.
Image Source: H&M
Research shows that laying out your products in rows makes customers perceive a variety in your items, rather than stacking them in columns.
In addition, Barbara E. Kahn, marketing professor and director of Jay H. Baker Retailing Center, said that people have better "perceptional fluency" when things are coordinated by rows since our eyes are aligned horizontally.
So how will this help your end?
Customers are more inclined to buy more than one product in a row, therefore it would be wise to arrange your items horizontally.
5. Fluid Performance
More often than not, the "little" things that make up your website give the biggest payoffs. Take for instance your web page speed.
A study from SOASTA have demonstrated how improving a website's loading speed led to a 25 percent bump in conversion rate.
Even Jeff Bezos of Amazon would attest to this as he keeps on pushing his employees to minimize the loading speed of Amazon.
But how does your website's fluid performance affect your sales funnel?
Statistics show that 40 percent of visitors ditch websites that takes more than 3 seconds to load.
To add to that, even a second of unresponsiveness on your end can result in a 7 percent decline in your sales conversion.
Let's say that your site is making at least $500 in a day. That would mean that you could lose at least a grand every month from that one second page delay!
So, how will you overcome this setback?
First, optimize your images.
It is without a doubt that high quality images contribute to the overall user experience. However, these photos take too much bandwidth.
Image Source: TinyPNG
You can compress them using TinyPNG to scale down the size of the photo without compromising its quality.
Second, you can opt for a Content Delivery Network (CDN).
A CDN is comprised of a network of optimized servers that are scattered around the globe. Basically, duplicates of your pages' content are stored on these servers.
So when a user access your website, the CDN shares the load of delivering the content through the server that is nearest to the user's location.
Lastly, ditch HTTP and use HTTP2 instead.
HTTP2 is the better version of HTTP.  The good news is that it is supported by Apache and browsers like Chrome.
6. Customer Reviews
The proliferation of customer reviews online has significantly changed the e-commerce landscape.
As a matter of fact, a survey from PeopleClaim shows that 70 percent of customers turn to online reviews of a product prior to making a purchase.
What's more is that 80 percent of consumers have second thoughts about their purchases solely based on the negative reviews they found online.
This means that as much as possible, you should bring in those positive customer reviews and use them as a social proof of how amazing your products and/or services are.
Image Source: Amazon
But how will you receive those reviews?
Most e-commerce platforms have a built-in review feature. It's just a matter of how you efficiently generate them.
In case you are wondering, there are various ways of soliciting online customer reviews.
For instance, e-mails can be used to set up an automated request for a product or service review.
Social media is also a good platform in giving your customers a voice. You can engage with them using different social media channels, or simply implement social media listening tools.
7. A Strong Value Proposition
One way on how you can effectively communicate your product or service offering is through a strong value proposition.
As SmartInsights put it, value propositions allow you to sway the customers into making a purchase on your site instead of the competition's.
So how do you ensure that your proposition is properly delivered?
Take into consideration the sales tools you are using. These include your Call-to-Action and the manner by which the promise is presented.
According to research, e-commerce websites only have a few seconds to get their message across the customers. Therefore, it is important that regardless of the page the customers land, your value proposition should be made known.
It is customary for e-commerce web designs to present the value proposition with texts at the center and with a high-quality image as a backdrop.
Image Source: Rakuten
It is also a must that your value proposition is supported by a clear CTA.
You don't have to overthink your message or your CTA button. The less complex your CTA is, the more it resonates with the customers.
Conclusion
Setting up an e-commerce website that actually sells is more than choosing an enticing theme, updating your inventory, and then waiting for the money to reach your bank account.
As explained above, there are elements that you have to improve and optimize so that it gets in line with your goals.
If you have tips to share with other business owners or stories of success to inspire our readers, let us know in our comments section!