SEO has always been an indispensable part of your marketing strategy, but often it is not considered a priority when creating new landing pages. Of course, you want to maximize the number of conversions. But even though conversion optimization is critical, ultimately, your content needs to be found to convert.
When you design a new landing page – or are looking for existing landing pages – consider this SEO checklist, which can help you increase the SEO effectiveness of your website without affecting the power of your pages to convert. All in all, it is a win-win situation – and it's worth your time. After all, a simple but SEO Ready web design will bring you more customers, than a "more beautiful" but "less SEO optimized" page.
1. Improve visibility with SEO-friendly URLs:
First of all, when you create your new page (or modify an existing one), you should provide an SEO-friendly URL that naturally uses keyword phrases and shows what the page is going to be about. This is good for both SE (to assign value) and end-users (to build trust by making the URL content obvious).
The key is to make it simple, easy to read and recognizable, but still keyword-rich, as in Google search results. The keywords in permalink URL should ideally be bold.
Tips:
Experiment with URLs that contain only keywords, because they score higher.
Avoid ugly standard URLs generated by your CMS.
Check if you are using only one version of your URL. If possible, submit the www version of your URL and check your robots.txt file to ensure that your URL (once live) can be indexed.
2. Title – Always include keywords:
The title tag is the main SEO factor on the page and we've seen the miraculous ranking of web pages when using the right keywords in the title tag. Google algorithm pays a lot of attention to the "title tag" to determine what the page is about, and it is not only displayed in visitors' browsers, but also in the SERP results.
That is why it is recommended to include the keyword you are trying to rank, but make sure that you use the keyword wisely, and that the title is also engaging. Use the known strategy of writing good headlines by writing title tags that are understandable and simple and directly relevant.
Tip: the closer you have the keyword at the beginning of the title, the greater the weight in search engines
3. Wrap your titles in H1 tags:
Web designers generally know this trick, but end-users don't. H1 tags are designed for the headline, and therefore your title should be wrapped around this tag. However, do not override your page by adding keywords to subtitles that are H2, H3, and H4.
The purpose of H-tags is to tell Google how the content is structured for better readability, i.e., the title describes the subject of this message, followed by sub-headings that break the content into a specific readable structure.
Do the heads and subheads use your keywords naturally? Does it add to the flow of the page? These are the questions that you should ask yourself at each step of the SEO process.
4. Write a feature-specific meta description
With a maximum limit of 150 characters, the meta description is one of the most powerful tools you have in the SERPs because this is the only place in the search engine where you can get an ad text free of charge. Make the maximum out of these 150 characters by utilizing the space to create a call to action, note your unique value, your brand name, any geographic locations / recommended details about your business, etc.
5. Internal link with anchor text:
The goal is to ensure that both SE and users get deeper and deeper into the website, so if you refer to specific pages or sources, make sure you link to them with anchor text that uses calls to action (such as "more information "," sign up now ", etc.) or keyword phrases, of course.
Do not overload the user with links – keep them sharp and drive the visitor away from the landing page only if this is relevant.
6. Add outgoing links:
Outbound links have their legitimate point in the SEO world, and it is assumed that linking to other blogs in your niche for reference or quotation is positive for SEO.
But even more than the ranking factor, it is the relevance mark that helps Google find out what your content is about, and also shows that you are adding value to readers by linking to useful resources, (as we have done in this post too).
The aim is to present users with a case study that you have done for them, to make them dig them deeper into your well-researched content, and provide evidence and references for better credibility.
7. Use natural language:
The content of the body itself must naturally use the word phrases multiple times, as well as use contextual variations. This is also called LSI (Latent semantic indexing), which means synonyms and closed variations of keywords that Google uses to better determine the relevance of the page.
8. Increase the content length:
Length can mean strength in SEO, so try to aim for a longer piece of content if possible. In theory, the more valuable your content is, the better, but that is not always true. Optimizing a page is about finding the right balance between the number of words and the value offered.
SERPIQ.com has conducted a industry study showing that longer content tends to score significantly higher on the first page of Google.
9. Optimize images:
If you use images on your pages, make sure that they are relevant to the subject (an image that is not associated with your content can increase the bounce rate), be attractive, and use relevant alt text and captions. Optimize ALT text when uploading images, these are text alternatives for images that Google reads to learn about the picture, although their algorithm has evolved, we need to get the basics right, because it helps your pages get a better position in the search results.
In fact, the use of alt tags is probably the best way for your eCommerce products to appear in Google images and on the web because search engines ultimately read the alt text.
10. The content quality:
The quality of your content is king, so make sure it does not contain spelling and grammar errors. It must be able to keep people on the page ( the time spent on the site indicates relevance/reception of value).
The truth is that Google has no direct way to determine the quality of the content, but statistics such as time spent on the site, returning visitors, bookmarks, and shares – all count towards a content that Google would like to show to its users on page # 1.
11. Add buttons for social sharing:
Make it accessible for people to share your content. Social media sharing buttons help the distribution of your content on various platforms, which can send signals to SE that your content is helpful and worth noting.
Also, it creates additional contact points with your brand, which can result in greater brand recognition, more traffic, and a better interaction (it's easier for people to like you if they can find you!).
Trust me, SEO + Social Media = a perfect match.
12. Increase the speed of the site:
As a web designer, you should know that website's speed is everything. The faster your site is loaded, the friendlier it is for your users. You will always find better user statistics on the pages that load quickly.
Site speed can be limited to your platform from time to time, however, if you are not sure how to optimize your site's speed, begin by examining your load time with any online tool and then contact your hosting provider. From there you can view ways to make your site faster within the limits of your CMS.
While you can increase the speed of your website with the help of CDN, in most cases I have found that the hosting is the primary source of slow speed.
Although today's hosting services are reasonably affordable, if you are looking for professional performance, you need to pick a first-class hosting company for your website.
13. Responsive design: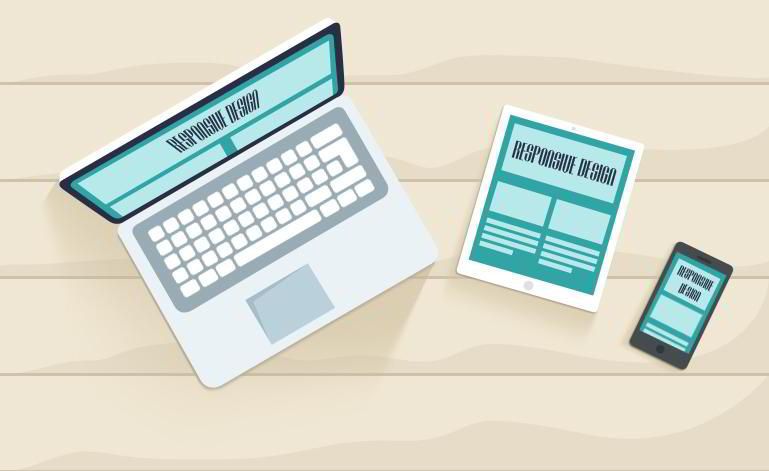 Now, there is a fundamental shift in web design standards that allows websites and blogs to evolve towards a responsive design – a huge improvement for both users and search engines. With responsive design, a page can adapt the layout to the device the user is viewing it on, making navigation more accessible and the user experience more engaging.
Search engines have already noticed that responsive design will not only improve the SEO performance of your site but also help users spend more time on your site. If you are considering to build a new website or change your current design, you should ONLY choose a theme or template that says "responsive."
14. Better readability:
Is the font too small? Is the font too difficult to read? Too fancy?
Believe it or not, these factors play a more prominent role in SEO than you might think. Make sure your content can be easily read. Otherwise, you might see a high bounce rate, which may indicate search engines that your page has no value.
I hope this quick list of essential SEO optimization tips will help you, and make sure if you get your design outsourced by an external company, always ask for an SEO ready web design, to save yourself plenty of time and hassle. Good luck!