Been feeling that writer vibe a lot lately? Become one then! WordPress is waiting for budding writers to showcase their talents through their blogs on the site. WordPress is the best site you will find across the internet if you are looking to set up a blog for yourself. Be it anything, you want to blog about coupons, food, fashion, footwear, poetry, etc., you can do it all on WordPress. The best part about this site is that it has amazing themes that you can download and set up your page accordingly with these great themes.
WAYS TO DOWNLOAD WORDPRESS THEMES
THROUGH WORDPRESS.ORG
The best place to download WordPress themes is its own website. Visit wordpress.org and you will know why it's the best place to download themes for your website. There are thousands to options to choose from and each of these options is exquisite in its own way. The best part is it's very easy to search for themes according to your preference as you can search by the number of columns, colours etc. the website even gives you an option to search through the featured list of themes and get the ones that are trending the most. For the user's convenience, the website has themes in thumbnails which clearly depict the theme. Moreover, you can just apply the theme and see if it suits you or not through the 'preview' option.
The steps to download the themes from this website are very easy:
Go to the wordpress.org website.
You will see an option under the name of themes.
Here you will find a sea of themes you can browse through.
You can download themes through the 'featured' option or 'popular' or 'latest' option as well.
Under these options you will find all the trending themes.
You can also go through the commercial themes where all the themes will be paid.
Once you like a theme just click on 'apply' and watch your website come to life.
FROM FREE THEME LAYOUTS.COM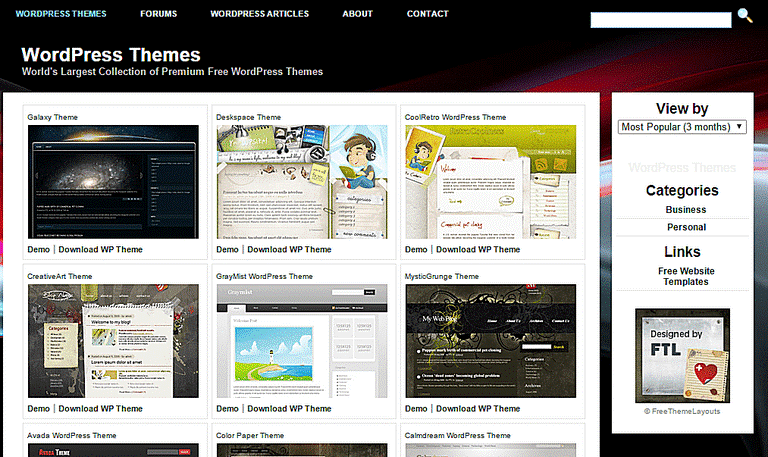 Free theme layouts are a website that offers themes for a lot of websites, especially WordPress. If you visit the website you will find a separate section for WordPress themes. All these themes are very simple and easy to download and apply on your WordPress website. The website has been laid out in such a way that it is very convenient for the users. There might not be a lot of themes there on the website but all of them are simple and great. You can see the themes from old to new so that you are also updated with what are the latest themes. Put the cursor over any theme to see a larger preview of it, it's that simple. You will be able to see through this option how that particular theme would look like on your website.
Follow these simple steps to install any of the WordPress themes for your page:
Go on to freethemelayouts.com
Find the option of WordPress themes.
You will see a lot of themes with 2 options underneath each theme.
One option will be of 'demo' and other will be of 'download'.
Run your cursor over the 'demo' option to see how the theme would look.
Once you like a theme, click on 'download' and you will get it for free.
FROM THEME GRADE
Theme grade is another great website known for its amazing themes. It has more than 3000 themes in its collection half of which are available for free. The website is very user friendly and you can search themes through layouts, categories and ranking as well. You will find a search option on the website which you can use to search through the sea of themes they have. The website is rather simple which is its plus point and the themes are very general in design. These themes will give your page a rather elegant look and not a random kind of look. You can see the preview of the theme you like in a red box on right hand side, above the category selection box. Also, you can actually see how popular the theme is so that you know what is trending.
Go onto the website and do this step by step to download the themes:
Go to the home page of the website.
Find the option WordPress themes.
Add on a category you want to look in.
A list of themes will appear.
There are two options under each theme, one is of 'preview' and other is of 'download'.
Click on preview to see the theme in the box above the category selection box.
Download the one you like.
THROUGH FREE WPTHEMES.COM
Free WPThemes doesn't make searching for themes boring for you, rather it makes it very exciting.  There is nothing simple that you would find on this website as each and every theme has been stylised in its unique way. You search using keyword like number of columns, colours etc. Once you search for these, the website will also show you the other categories that the theme comes under like restaurant etc. this way you know what the theme would be perfect for. The themes on the site will be shown from newest to oldest and you can just browse through them all to see what all is there on the site that might suit your needs.
Go through these steps to download a theme:
Go onto freeWPthemes.com
Find the search button in the right hand side corner.
Search by adding keyword that you think define your needs.
A list of themes will come up according to the keywords.
Find the theme you like.
Preview the theme if you want to.
Download the one that you love.
FROM JUST FREE THEMES
This is a website that you will love the most out of all because it asks or no sign up or account creation for downloading any themes. There are more than 500 themes on the website that you can download without having to create any sort of account on the website. If you decide to sign up, you will receive email regarding the best themes of the week so that you are up to date. Each of these themes is very simple and elegant and will totally make your blog look great. Moreover, all of them have been given a rating out of 10 which is based on the performance of the theme so you can see which one is the most liked by all. You can see the top 10 WordPress themes or you can just search on your own by putting in keywords according to your needs.
The steps to follow to download the themes are as follows:
Go on to the website.
Find the WordPress themes option.
On the home page you will see the top 10 themes.
Choose from them if you like.
Search in the search bar for keywords and find more themes.
Zoom in onto the theme if you want a preview.
Download the one you like the most.
HOW TO INSTALL ALL THESE THEMES
Once you have downloaded the themes through any of these ways then follow these steps to add it on to your page.
Once you hit download, a zip file will be downloaded on your system.
Login onto your WordPress account.
Go to the themes option.
Click on add new button once you reach the themes page.
Add on your theme and click on install.
Click on preview if you want to see how it looks on your page.
Once it is installed, click on activate and you are done.
WHY GO FOR WORDPRESS THEMES?
WordPress themes can lighten up even the simplest blogs or websites, so adding them on and making your site even better is the smartest option. If you know you write well, why not attract people towards your blog by making such a small effort. Download these themes and make your page look awesome, no matter what you need, you will definitely find something for yourself through these options.