In a world of today, a corporate approach is very much appreciated, especially inside the business world. People need a touch of professional attire in their products, so that the consumer party can take you seriously.
That's where corporate brand guideline templates come into play. To brand your product, you can neither go with amateur styles nor with hippy designs. What if you could access the mock-ups of already made corporate templates?
You wouldn't need to go through the hassle of designing a template. Using a corporate brand guideline template helps save your money and your time.
Following are the hottest corporate brand guideline templates which could benefit the emerging businesses around the globe.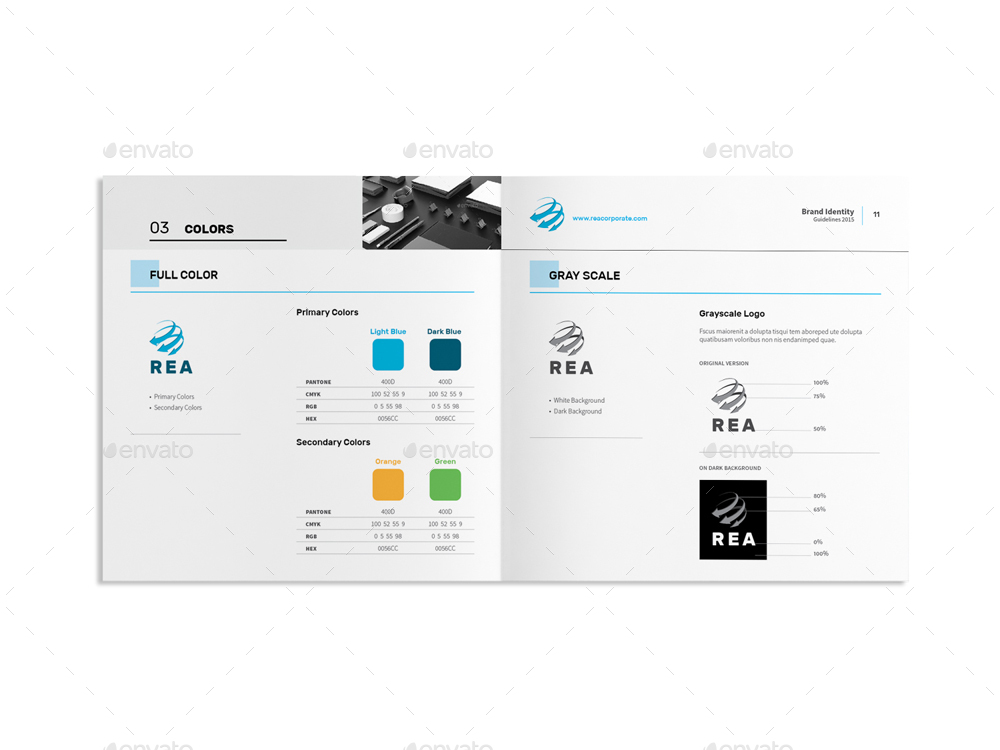 Brand Identity Guidelines Square Brochure
Using the contrasting chemistry of black and white, the square brochure design can be used for more than one purposes.
Designing a cookbook, a restaurant's flyover, a writer's memorandum…The list goes on and on.
When attracting a corporate audience, you don't need anything that is too much fancy. A color combination of white, black and blue implies sophistication – a trait you definitely need in order to succeed in the long run.
The square brochure template has been optimized on all types of brand standards and facilitates the user with the option of editing, pretty much anything.
As the name indicates, this template is designed for giving manuals a refined touch. What separates the following template from all other templates in the mainstream market is that it is original.
We understand that when one creates a manual, one needs a versatility of colored pages. The brand manual template gives you the edge of changing colors to whatever you like. Leaving a top spot for creating visual effects, inside the minds of an audience, the brand manual template is a must for every manual creator out there.
A standard book manual design template – this design comes with all the functionalities which are responsible for making a top notch manual, in the eyes of its admirers.
You have been given a ready steady template. Now, all you have to do is to think about altering it a little bit so that your template can be incoherence with your book.
Or you don't need to alter it. Why waste the hard work of a designer who worked so hard to present you this template? Use it as it is and then let your book speak for itself.
This template houses a variety of designs. It is available in a book format. The holistic set includes 8 layers of PSD, smart object and labelling of colors. These colors can then, be edited easily and efficiently.
All the PSD files are equipped with a manual of their own, which offers assistance in simple English. These ultra-high resolution templates are of 4000 pixels and offer the best mockup designing templates for your businesses.
This is perhaps the all in one design bundle anyone would ever want. The best thing about this bundle is that it is for everyone. It literally contains all the designs, almost anybody could dream of using.
The users of prestigious "company bundle" can be businessmen, entrepreneurs, students, amateurs and web designers. A client has complete freedom to choose whatever template he or she likes and to edit them, according to their best interests. Specifically, those templates have been grouped together, which can be utilized in every possible way to attract a customer about a respective product.
All templates available at WebDesignBlog: https://webdesignblog.info/psd-mockups/brand-guidlines/
It is recommended to visit the website, see through all the offered designs, read more about them, get the ones you really like and make a difference in your target market.