We always worked towards bringing our readers the best graphical resources on the internet, and although our website is predominantly centered around Photoshop, let's not forget that half of the designs today are made in Illustrator, which we call a half-brother of Photoshop, in Adobe's family.
Recently, I have been working on a new design, and looked for high quality geometric patterns, for my new web design project and realized that Illustrator is much better than photoshop, when it comes to patterns, simply because you don't lose quality upon enlarging. That means, you can play with these patterns, redo them, redesign, and you will never lose the original quality, even if this design will be used in print.
Today's web design trend is all about geometric patterns, we see in everywhere, from IKEA to app interfaces, but the next question is, where do we get them?
Currently, there is only one obvious answer to this question, and that is – Vecteezy.com. Today, this is the largest home for vector graphics, and geometric patterns in particular, currently hosting over 5700 free vector-based geometric patterns, and around 300 top quality patterns, accessible only for paid users. While the dominant majority of the website is free to access and download, paid membership starts as low as $14, giving you full access to all premium designs at once. With so many designs to choose from, the paid membership cannot go wasted, because you get access to the entire website's premium database, which also includes flayers, icons, web element, food vectors, holiday illustrations, plants vectors, animals, business and more. There are hundreds upon thousands of vector graphics, designed by the most passionate Illustrator enthusiasts. Over the years, Vecteezy.com evolved into a huge web design community, where anyone who is into Illustrator and vector art, can register, share their work and connect with other like-minded designers.
What's the advantage of downloading from Vecteezy.com over others?
As we mentioned already, most of the downloads on Vecteezy.com are free, unlike a vast majority of websites out there that sell vectors on a file-per-file basis. Many stock photo websites charge around $20 per file download, while at Vecteezy you get access to thousands of files for less than that.
Where can geometric patterns be used?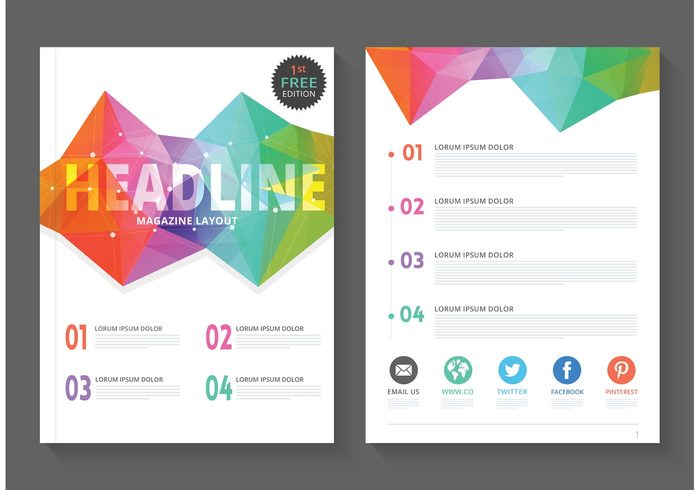 We see a lot of them, especially the colorful ones, being used for business card design, presentations, business flayers, magazine layouts and calendars. These backgrounds, when cleverly used, can instantly spice up any presentation or business layout. While you can let your imagination run wild, and design pretty much anything you want, there is a big portion of pre-designed business cards and presentations to choose from, which makes your work for a client pretty much lightening-fast.
In Conclusion
If you are working in Illustrator and looking for exclusively high quality vector graphics, especially geometric patterns, your one-stop-shop will be Vecteezy, where you sure won't leave empty handed. Super-charge your design skills and stock up on resources absolutely free of charge — head over there and create a free account today!