Twitter's growing more and more intensely lately, have you noticed? It was only a little over a month from when we told you about the new tooltips and now we have plenty of new featured to introduce you to. During this time, developers of the popular microblogging service added a lot of new "stuff" to the popular and functional Twitter. First of all, the new home, new business features, improved search and launch an advertising platform. Just recently I became aware that Twitter is going to swallow Atebits.
That's what will  gave us soon a new twitter. In order not to become entangled in the news, we'll talk about innovations in the order they appear in the official blog of the service.
Business Functions
In the end of March, the developers have activated the service under the name of Contributors. With the help of several users can write tweets on behalf of a single account. The work of this innovation could be a long time seen in the official account of service. Now this feature is enabled for all users and is free, at least for the time being.
Why "for the time being"? This function is the first in a set of similar corporate additions and it is possible that when their number is much larger pool of developers in charge package, as the result, we note that this innovation will be most interesting for various corporations, as well as for users who intend to lead a group microblogging.
Updated home page Announcement of the updated home page was a further 30 March, but the "full" power innovation has earned only a few days ago.
Page completely changed their usual appearance and became, in our opinion, more informative. Current trends show now in the form of scrolling text and near the top of the page. Added unit, which shows the accounts of celebrities, and slightly to the right is a dynamic block that displays the last tweets casual users.
The new design is perfectly suited for today's Twitter, the meaning of which is reduced to a steady stream of news, opinions, thoughts, tips, and other, sometimes urgent, information.

Advanced Search
Many users find this innovation has been hidden, because As it SERPs. Now, thanks to new algorithm, the results of issuance, the user will see the 3 most popular tweets (their popularity is calculated quantity of re-tweets, so getting re-tweets is essential than ever). Other results, as before, sorted by date of their writing – from new to old.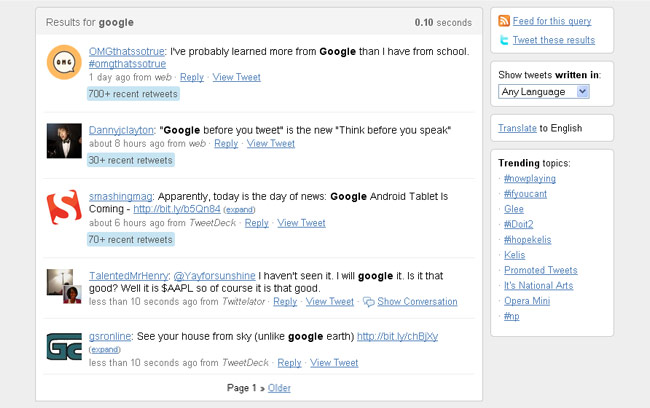 The purpose of innovation, according to developers, to make searches more meaningful and relevant. As it is necessary to note the operational integration of the algorithm in the API service, enabling developers to third-party applications to include a new search feature in their programs.
Start advertising platform
This is probably the most important news, after updating the home page. Twitter has officially launched a way to monetize its service. And this, apparently, only the first step taken in this direction.
The first advertising feature called Promoted Tweets and, in terms of perception of information within the service is very simple and most convenient one available to date, types of advertising, and it's going to make a decent competition to the Sponsored Tweets platform.. The result of the platform is to display advertisements tweets in the first lines of the SERP for certain search queries. This type of advertising is the best fit to the structure of Twitter and should not cause a specific criticism from users of service. Now a list of companies that cooperate with tweets is not too large, but there's already a lot of major brands such as Best Buy, Bravo, Red Bull, Sony Pictures, Starbucks and Virgin America. Undoubtedly, in future, will expand more than one dozen companies.
Also, in the official blog reports that Promoted Tweets will be actively explored and analyzed with a view to its further development. Depending on the effectiveness of this type of advertising, and reaction of users, the advertising function can be further disseminated. As an option – it is putting Twitter with advertising in the feed posts as in the web interface, and a twitter client.
Most interesting, in our view point, an innovation – an updated home page and the  start advertising platform. What do you think about these changes?