On the other side, in case of profit purpose blogging, one may like to consider a 3-column WordPress theme that has the ability to incorporate your Google Adsense, Chitika and Text Link Ads codes comfortably without leading to cramming of the content area. 3-column themes provide room for expansion, but in case you've used up all available space to fill ads, then you have to remove the extras and focus only on the advertising services that relate to that particular blog.
Read more about Ready-for-Ads themes here:
The Real Secrets behind Google Adsense High Earnings
18 Adsense Optimized WordPress Themes to Maximize your Contextual Ad Earnings
Essential Tools to Create Money Making Blog
2. Use of Images and Icons
A theme loaded with images and icons may look good, but it rarely effective in increasing your web traffic or subscriber base. In fact, most "A-list" bloggers use plain vanilla themes with a simple logo on the head. Fewer amount of images also leads to faster loading speed and less load on your servers. This crucial aspect of server load becomes influential only if you have tons of visitors a day, but it's worth planning for the future.
A image-loaded theme also detracts readers from the actual content. Due to this reason only blogs like Engadget and Tech Crunch use pictures intensively in the content areas to increase value of a post, keeping the theme itself simple and bare.
Ideally, a theme should enable you to include your own header image for better branding purposes, and yet allow you to replace images and icons with links and text, or just ignore them completely unless really required.
Here are some of the best icons you will find for your wordpress theme design: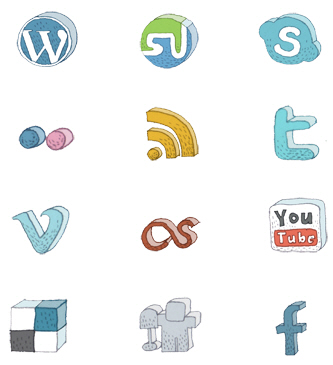 3. Compatibility with Plugins
Another time consuming activity is installation of plugins that enhance the functionality of your site. There's a plugin available for almost everything you want to perform with your blog (We do hope you already read our 75 Best WordPress Plugins That Make Bloggers Lives Easier post last month), but while most of them don;t cost and are easily available, it's not always simple to install the plugins and insert the codes into your WordPress theme.
If your theme is more complicated, it may be a nuisance to even insert just a line of code you need to make a plugin function. This is often the scenario with advanced AJAX-based WordPress themes that consist of too many files and are heavily coded. Simpler themes are always preferable as they stick to the default WordPress theme as much as possible, which considerably shortens the learning process and allows one to get on with things.
Remember that the objective of your blog is to provide timely, relevant content to your readers. Any theme that preserves or enhances the reader experience is ideal, one that hampers the experience in any way is not worth it.
4. Search Engine Optimization
A lot of importance is attached to search engine optimization, but ultimately if you provide content worth reading , at the end of the day you'll achieve the rankings you deserve. However, that doesn't imply that you don't require SEO; it just means that as far as optimization is concerned all you really have to do is to see that:
(A) Your tags are in proper format
(B) All the content titles in your blog are H1 tagged, making use of main keywords to enhance SEO relevance rather than using non-descriptive text.
(C) Your theme consists clean source codes
(D) Plug-And-Play Ease of Use
Can the theme comfortably be installed on an existing blog without having to disturb existing content? Is the same theme easy to utilize and customize on your other blogs? These are some additional things one may want to take note of when theme-shopping, especially when every few seconds of downtime on your blog may represent lost revenue.
While it's difficult to draw comparisons due to the abundant amount of free and paid themes available, it's still not a bad idea to have a test blog site. Test any theme you plan to use, while making sure your test blog is also equipped with all the plugins and miscellaneous widgets incorporated on your actual blog. The one thing you don't want is for your readers to come across strange error messages on your blog.
At the end of the day, a theme is just a theme. Instead of spending your time installing them, optimizing existing themes for fast loading and reducing database queries, it may be wiser and a whole lot easier  to browse a few handy tutorials and learn how to make one yourself, get it coded cheap, so that it will suit all your needs.