After you have finished with both eyes, do the same with the lips. Again, try not to lighten the contour of the lip but only the inside, which will make the lips look as if they are covered with a light glossy lip gloss.
So far, we got a very good looking picture…
Now to the hardest part – adding blond hair. Try finding a photo of a big resolution and good quality, where u can pull pieces of hair and add them to your wanna-be mermaid. We mercilessly cut the hair from Michelle Hunziker's wallpaper – vetton.ru/models/6495.html
How to cut the hair and add it – up to you. try to make it look natural, u may want to add a several layers with different hair pieces (which is what we did) and blend them together, since it will be very hard to find another photo with a similar angle, and hair structure.
If your newly added hair is not blond enough (like in our case) add some contrast and brightness, so give the hair more depth and goldness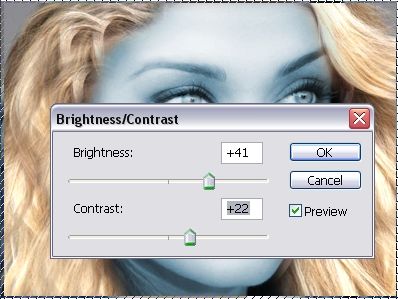 Now it's time to turn the blond hair into greenish. remember that they shouldn't bee too green, we are not trying to make a covered with moss girl!
Press Ctrl + U (while the hair layer is selected) and apply these settings:
That's it! You are done, this is your result. I hope you enjoyed this tutorial and if you do, please subscribe to our RSS feed and make sure you never miss a tut. Stay tuned, next week we will have many more Photoshop tutorials for you, including original effects and fantasy art tutorials.