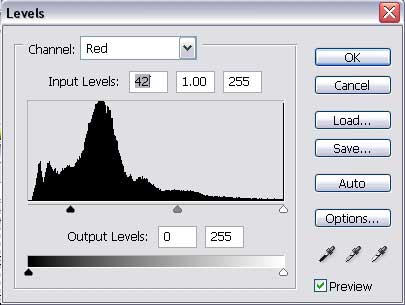 We got a much blueish hue to our photo.
Take a photo of the clouds u used before, and paste it unto your canvas once again. Make sure the new layer lays above the background.
Erase 2/3 of it, so that the remaining clouds, will only cover the girls legs, partly. Use the eraser tool with soft edge, preferably big radius, to avoid sharp and awkward edges for the cloud. it's a cloud after all!
While the new clouds layer is selected, go to Levels panel again, and adjust the red level as shown below.
The settings must be different from the background layer , to give the image more depth.
Flatten the image once more. Now it became one canvas again, without layers, so go to Filter >> Renders >> Lightening Effect and apply this light effect when the center of your light is the sparkles…

The last manipulation resulted in the following modification…
Go to Levels again, and move the settings of the red channel and shown below, to give the picture a "cold" feeling. (red hues are always more "warm")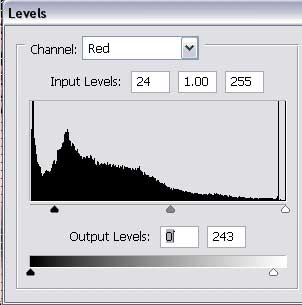 Also, move the blue channel settings a tiny bit towards the center… Adding blue channel intensity: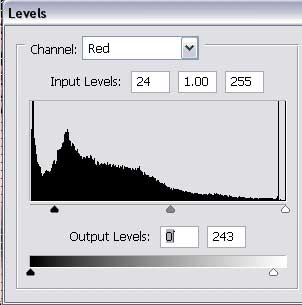 That's it, here is your Xmas fairy, blowing sparkles right on you!
Hope you enjoyed the tutorial!