Go to the layers menu and select the layer with the clouds (remember it has to be on luminosity mode)
Select the Dune Grass brush again, and add a bit grass from both sides of the woman, but make sure you dont apply them over her. The idea is to create the illusion of her sitting IN the grass and not behind it. Since here the blending mode is different (luminosity), the grass will look more moonlit in front of her.
Go again to layers menu and select the first layer of the woman, which stayed intact so far…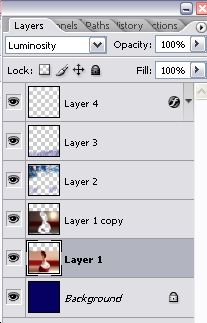 Go to Filter >> Renders >> Lightening effects and apply a light spot, similar to what we did with the blurred layer, only bigger
And this is how it looks now, now the girl is slightly lit from one side more than from another:
If you are happy with all the layers and see that no correction is needed – good! Now you can flatten the layer by going to Layer >> Flatten Image.
Now that the canvas is fully merged into one picture, go to Image >> Adjustments >> Hue Saturation.
Check the "colorize" box, and set these settings, for a flat blue colour. IF you wish to give your canvas a different hue, its up to you, just play with the settings here.
That's it! We have a beautiful bewitching girl, sitting my the sea, while the fool moon is wrapped in fog and slightly lightening the grass, the sea's horizon line and the lady's side…