After finishing our work around the eyes, this is what we have accomplished…
Now, using the same technique, go with the Burn Tool over the lips line, as if you are applying a lipstick, "burning" the lips to a darker hue.
Create a new layer. Select a Brush tool with a sharp edge. Make sure you are using same round size as the eyes of the figure you are working on.
Apply two "stamps" over the eyes, as shown on the picture below. We used #0348f9 bright blue colour, rather unnatural hue for eyes. Remove the remains of the round brush from the eye lids.
Set the Blending mode of the eyes stamps to "Color"
Take any picture of flower, preferably on transparent background (clipart) or any easily removable background, and add to the picture, that
way, so that it will cover all the flaws of your recent manipulations. It can be bad edges of hair (as we have here) or anything else.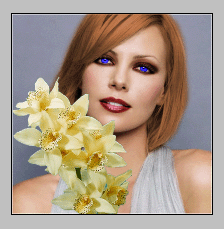 Add it in front and also as a background, in order to create the illusion of blooming garden all around the face, so that the flower won't look as if it doesn't belong.
Since now, all the layers of the picture are of a different hue, lightening and quality – Flatten the image.
Go to Filter >> Renders >> Lightening effect and apply this omni spot only over tthe face. Use light bieje colour for the light spot.
That it is, this is your glamorous result. Ain't the photo looks superb?