Dark (#211f1f) color layer >> Grunge paper >> Road >> Shadow Silhouette >> Finger Prints >> Girl in the Rain
Next, when we have a great black and white background (it turned black and white when we placed a colorless silhouette's layer over it), time to add the spicy little details and title. Let's start with a cliche that any horror movie will have in it, and most of them are going to have it on the poster as well — knife covered with blood! (yep, we finally got to the chop-chop part!) Chose any weapon you like, we went with a classic kitchen knife I fished out of SXC.hu as well. Crop the white background (in my case I just erased the bg with one click using the Magic Eraser Tool, then Selected the remaining part (knife itself, select it by holding the CTRL key and pressing on the layer, in your layer palette), then I went to Select >> Modify >> Contract and set it to 1 px. Afterwords I pressed Shift + CTRL + I to inverse the selection and pressed delete. Voila, the knife is neatly cropped.
Place the knife somewhere at the bottom of the canvas to make sure it does not obscure any of our carefully selected characters.
Time to add a spine-chilling title. Since our poster is rather busy, I made a new layer, and using a black color with soft brush, I added a small black cloud at the bottom, where I plan to place my title.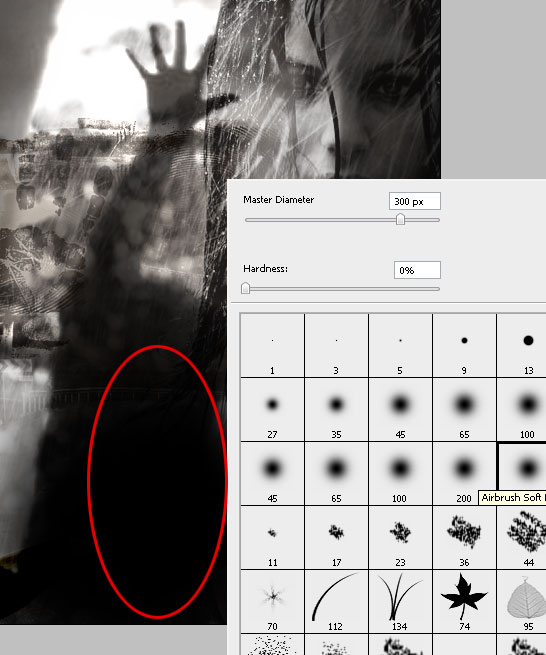 To decorate it a little bit more, I also took one of the shapes I have in my computer and added it on top of the black cloud to give our poster a more of a Gothic look.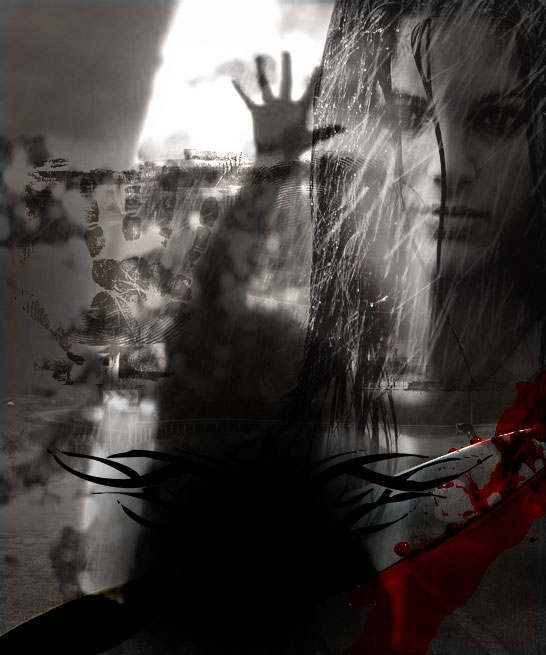 I also took one more shape, of a slightly lighter hue and placed it above the black cloud layer. Now this gives the poster a more of a devilish mood.
Finally, the most important part – the title. We made use of Birch Std font to write "Laura's", in white, 109pt letters; and placed the name over the black stain we previously made at the lower part of the canvas.