Open the file in your Adobe Photoshop. This file was too dark, so we needed to correct shadows, otherwise in our final (dark) result we won't be able to see her face.
Go to Image >> Adjustments >> Shadow / Highlight. Apply the following (automatic) settings…

Press OK.
Now, go to Image >> Adjustments >> Gradient Map. Chose gradient between white and black, this should be default. If you are getting a "negative" image (with revered colors), just click the "reverse" box. You will get a classic black and white photo with good contrast, thanks to the Shadow/highlight correction we did in the previous step.

We want it all to blend in nicely, so we place the girl's photo over all the layer we have so far and set the blending option to "Overlay".
Don't worry if you get a messy mix of images because we will fix that too later. Most important is that main character image (woman, in our case) would be visible and not too dark.
To avoid the previous layer with fingerprints obscuring our character, use Eraser tool with soft brush to remove any finger prints from her face and body.

We want to still add more to our poster design, because it's a movie poster, it has to have a CONCEPT. And, it has to reflect and represent that spooky and mysterious concept. So I looked up a nice and heavy photo of a road, taken by Romanian photographer Pniti Marta, and decided to blend to fold it into our composition.
Take the road's picture, and place it over grungy canvas, yet below the woman's face and fingerprints layers. Set the blending options to "Luminosity" just like you see on the picture below..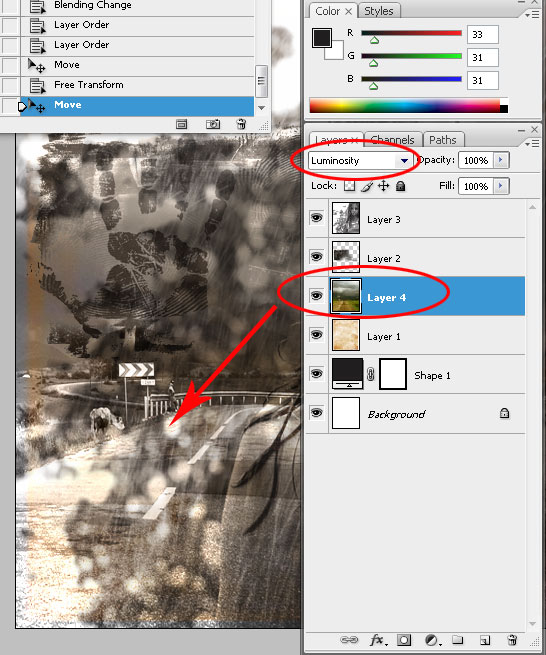 So far, this should be your result. Bear in mind that if you are working with different images and not the ones we used for this Photoshop tutorial, your result may be different, darker or lighter, with better or worst contrast. Try to keep following the tutorial and see if it gets better when we will be adding more layers.

Next, we need a dramatic, classic horror element and I couldn't think of a better stock photo to use than Silhouette by Cathy Kaplan. I took her image and since once again I didn't want to wait for the big image to download, I used the small one and stretched it to match the size of the canvas, which also gave me slightly pixelated blurred effect I wanted to achieve.
Paste the small image (or large) on top of your digital canvas, press Ctrl + T, and while holding the SHIFT key pressed, to avoid losing proportion.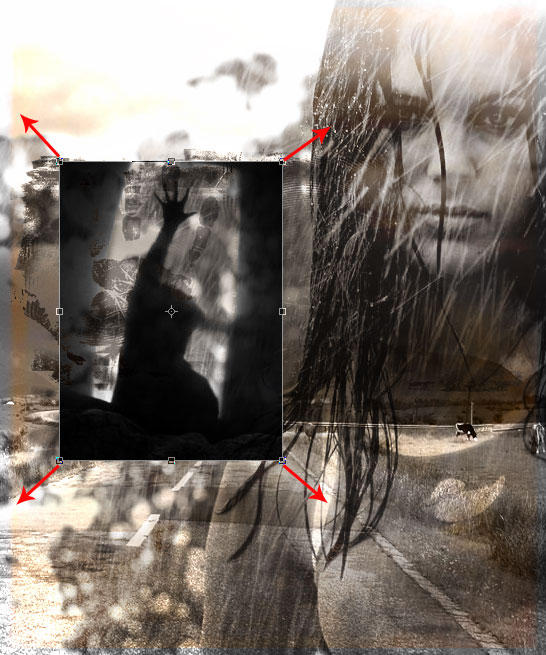 Set Silhouette's opacity to 80%.
Drag the silhouette layer under the girl and finger prints layer, yet keep it above the road photo layer. The picture below should reflect your result so far. If you lost track with layer sequences and as a result your poster is turning out to be rather different, here is our layers order so far, from bottom to top: