Although we post a lot of tutorials that teach you how to turn your ordinary photos into professional shots, many of us still get stuck and end up playing actions. It only takes seconds and the result is often very impressive.
With so many ideas and experience I have, I decided it would be a shame if I won't release a set of actions to help the readers of PSwish.com and LoreleiWebDesign.com, so here is my first release, PSWISH 3 Action (pro). Please note that this action is for personal use one, and cannot be resold or redistributed on other websites.
Instruction:
The action will work best with LIGHT photos. Any area that is slightly dark will turn black.
The final result's color scheme of the photo is determent by your Background and Foreground colors set before you played the action. Play with different variations to see what works best for you. If the results turn to be too dark or too reddish, set both foreground and background colors to lighter hues. Alternatively, hide the dark clouds layer when the action is finished playing (which makes the shot significantly lighter yet keeps the professional touch the action applied).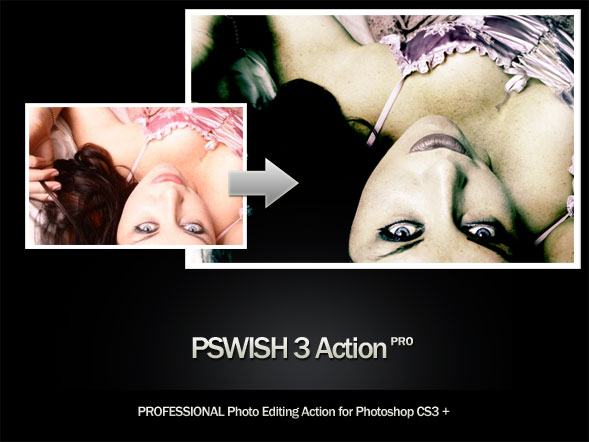 I use CS3 so I had no chance to test it on CS2 or lower, if anyone does, please drop a comment below so that other users will know if it's suitable for other versions or not.
What you can do with this Photoshop Action?
This is idea for retouching photos with dull colors, or those that turned to be too light and as a result — uselessly boring. It will help you to turn any ordinary shot into a professional, "old school" photo with very strong contrast, slightly cold colors and grainy texture that is pulled from photo itself, and applied without using any additional grain effect. Like I said, if the result turns to be nearly black, this means your colors were too dark, because if you hide the clouds layer (should be one before last) — you will get good results but without this beautiful dramatic dark grain.
Subscribe to our feed by mail and get them delivered to your inbox right after the release! (Please remember to verify your subscription by clicking the verification link which will be emailed to you).