A while ago I made a post with outstanding free wordpress themes which were all designed in Photoshop and now, since a lot of people don't like the idea of "free" wordpress themes for different reasons, here is a top 10 of premium themes which you can purchase from $12 to $30 and won't need to keep a trail of spammy links, or make do with poor coding that will destroy your blog..
1. "Our Community" WordPress Theme

2. "Showcase WordPress" Theme

3. "Blazen" WordPress Theme (new)

4. "Wood World" WordPress Theme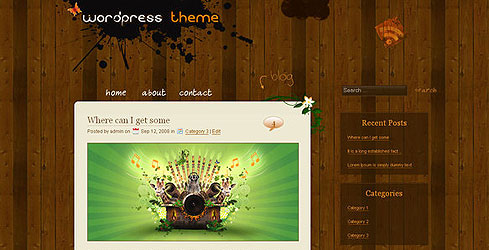 5. "Eat Fish Cat" WordPress Theme

6. "Code Breaker" WordPress theme (only $12)

7. "Aurora Borealis" WordPress Theme

8. "Quick Tab" WordPress Theme

9. "The Other Blog" WordPress theme

10. "BMag" WordPress theme ($12 Only)

So, this was my top 10 picks from the rapidly growing new network of wordpress themes – Theme Forest. Hope you will find something for your liking in this list.